Maximum energy efficiency and efficient employees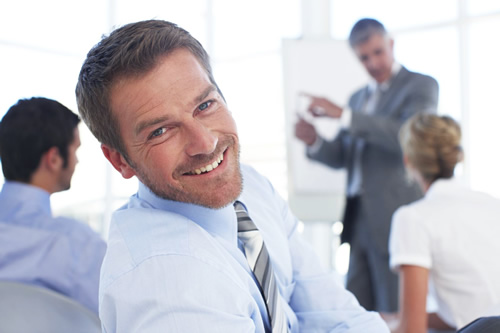 Optimum working conditions Enhanced efficiency Lower operating costs
A pleasant and comfortable room climate, feel-good atmosphere through perfect temperature control and sufficient lighting with optimum daylight yield are the most important factors for ensuring the well-being and performance of employees and customers in office and administrative buildings. The focus is on implementing this with the highest possible energy efficiency. Can it work or is it mutually exclusive? It is a matter of fact that there are many influencing factors for office and administrative buildings that have to be taken into consideration, e.g. changing room occupancies, flexible floor plans and the integration of new media technologies. Intelligent automation solutions guarantee energy-efficient and sustainable operation of buildings (over the entire life cycle of the building). It is important to avoid the waste of energy due to unnecessary lighting, air-conditioning and heat losses.
If you have any questions about the automation of office and administrative buildings, please do not hesitate to contact us: Simply use the contact options below.
Cutting-edge building technology provides highest flexibility and security
On average, we spend 90% of our time in buildings, most of it at the workplace like in the office. We are inspired, creative and productive in modern environments and our performance and motivation are the basis for the success of our company.Well-being is not enough though. An office building has to provide more than just the best working conditions. The operators of modern buildings demand highest flexibility and security at maximum energy-efficiency and minimum costs. The interaction of the individual trades and the communication among the systems are of significant importance.
DIGICONTROL offers its customers reliable and future-proof products from a single source that are tailor-made for the requirements of their building. We also consider flexible utilisation concepts of the real estate and adaptations of new usage concepts and requirements for space (before the kick-off of the project). DIGICONTROL offers optimum comfort at maximum energy-efficiency and flexible solutions for your property. You will not only feel good because of the efficiency of your building but this will also contribute to a positive public perception.
Requirements, standards and guidelines
Our automation systems meet the highest requirements for the energy efficiency of buildings specified by EPBD, EnEV and certification systems like DGNB, LEED or BREEAM.
for DIN EN ISO 16484, VDI 3814 and VDI 3813 which describe the functions of building and room automation.
for DIN EN 15232 up to the highest energy efficiency class A.
Flexibility and security of investment
Intelligent automation and control systems are expected to provide maximum flexibility as the rooms have to be tailored to new work flows and processes and to the changing requirements of different tenants. Flexible room automation and innovative control concepts ensure that buildings can still be run efficiently tomorrow.
Enhanced efficiency in offices and administrative buildings
A pleasant and seasonally adjusted room temperature, room humidity and above all fresh air are the prerequisites for staying longer concentrated. Especially too much CO2 leads to premature fatigue. The DIGICONTROL automation system captures the climatic conditions inside and outside and perfectly adjusts the room climate for optimal working conditions.
The atmosphere of a room is determined by the room climate and, of course, by the light conditions. We would like to have a perfectly adapted light to the year and the day: Intelligent light, which improves the work atmosphere, so that we feel more comfortable in the office.
DIGICONTROL can generate intelligent light, makes us more productive, happier and also saves a great deal of energy and CO2. DIGICONTROL responds to changes in occupancy densities and ensures the right temperature and fresh air.
In addition, DIGICONTROL enables the integration of modern media technology. Control beamer, screen, video, audio, shading, light, heating and ventilation via a single panel with scenario preselection.
Safety for people, investments, companys and data
We develop unique solutions for you which are ideally tailored to the safety requirements of your building. We seamlessly integrate access control, video surveillance, burglary protection and fire alarm system into the building automation system DIGICONTROL and the building management system WEBVISION 5.
Safety for human beings and investments
Safety for human beings and investments
Danger resulting from smoke and fire
DIGICONTROL contains fire and smoke detectors, embedded fire detection systems which help to trigger rescue processes, e.g. alerting, smoke extraction, fire damper control, sealing-off and window control.
Danger arising from burglary
DIGICONTROL monitors and closes the blinds, windows and doors at night and in case of absence and also integrates intrusion detection systems. It also includes special scenarios for enhancing the anti-burglary protection.
Danger by vandalism
WEBVISION 5 integrates video surveillance and access systems.
Barrier-free operation
DIGICONTROL contains a simple and barrier-free operation of the automation system.
Industrial safety and functionality
The DIGICONTROL automation system is extremely reliable. The BACnet Building Controller B-BC is certified in accordance with the BACnet Protocol. The overvoltage protection safeguards the safe operation of the building even in case of lightning and thunderstorms .Leak monitoring minimises the risk of water damages. The blind control increases the protection against storm damages. The remote control ensures your independence. You can intervene and control everything if you are not on-site.
Take advantage of our expertise!
For all questions, starting with the planning, implementation, optimization and support of your buildings, you have only one contact person:
Not found the right one yet?